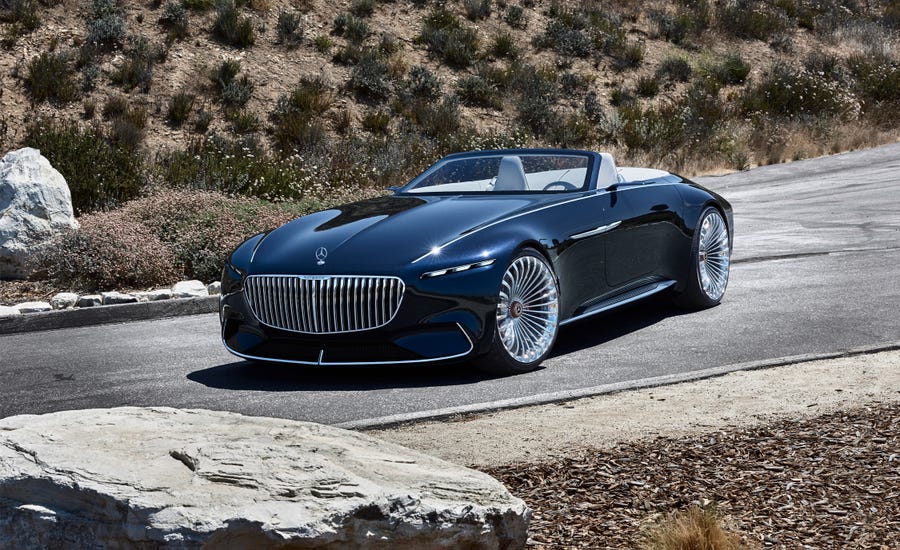 With its sensual emotional design, and intelligent details, the electric 'mercedes-maybach 6 cabriolet concept' represents the ultimate in luxury
After fizzling out ignominiously a few years ago as a stand-alone Rolls-Royce and Bentley competitor, Maybach is resurgent as a sub-brand for Mercedes-Benz. It's selling stretched S-class sedans under the Mercedes-Maybach badge in considerable numbers, including many V-12s in North America and those plus lesser-engined models in China. Now it's launching a stunning convertible at the Pebble Beach Concours d'Elegance: Meet the Vision Mercedes-Maybach 6 cabriolet.
Stretching some 236 inches in length, this Maybach is grandly proportioned. It's not made for tight parking spots; it would claim the prime space in front of any venue anyway.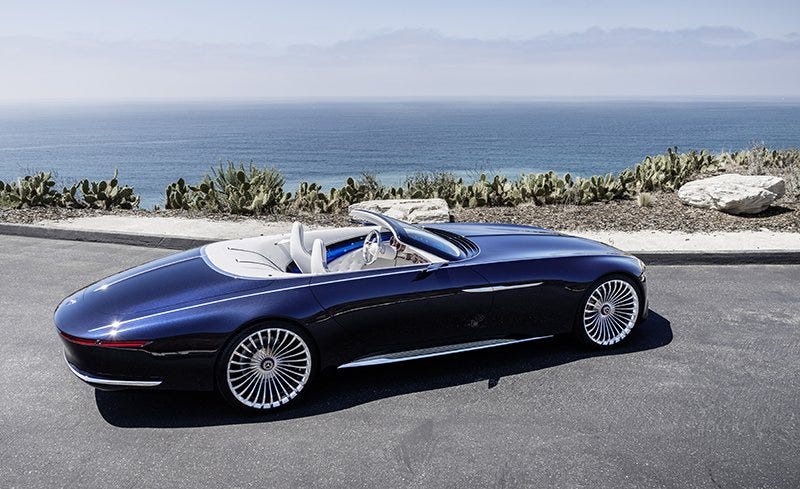 Powered by a 738-hp fully electric powertrain, the Vision Mercedes-Maybach 6 cabriolet is said to be able to travel more than 200 miles on a charge. A quick-charging system can add 60 miles of range in five minutes, the company said. There are four electric motors, one for each wheel, allowing for all-wheel drive and torque-vectoring functionality. Performance claims include zero to 60 mph in less than four seconds and a top speed governed at 155 mph.
Executed in Nautical Blue Metallic and fitted with 24-inch wheels featuring 26 spokes and a rose-gold center lock, the Vision Mercedes-Maybach 6 cabriolet is the open-top version of last year's coupe concept that took Pebble Beach by surprise. Up front, a grille with 25 vertical slats represents the new face of the brand. You will see it elsewhere in the future.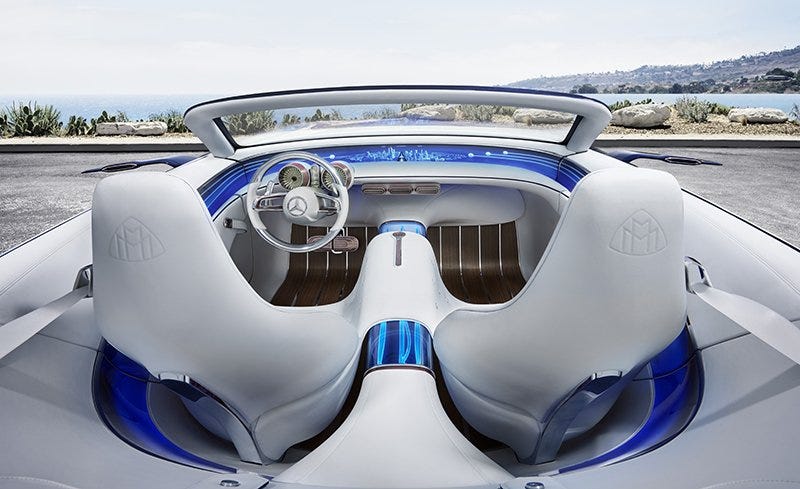 The fabric top features rose gold threads, and it opens to reveal an incredibly sophisticated interior with a classic two-spoke steering wheel, futuristic lighting effects, quilted leather inspired by Chesterfield sofas, and open-pore wood with aluminum accents. The digital instrumentation incorporates physical needles—elements that Daimler describes as "hyperanalog." The planked wooden floor plays up a maritime theme.
Being an electric car, the 6's incredibly long front end, with its twin center-hinged hoods, doesn't house a conventional engine. Maybach has decided to put the space to other uses, with compartments dedicated to specially fitted luggage, umbrellas, even silverware. It's a playful element in a hyper-luxury-car concept with a serious purpose: to underscore Daimler's commitment both to electric mobility and to the Mercedes-Maybach brand.