You know those houses that seem to go on forever and ever, and you always find a different cool feature in every room. Well the Conqueror Overland Adventure Trailer series are all just like that, only they're portable, and built like a tank.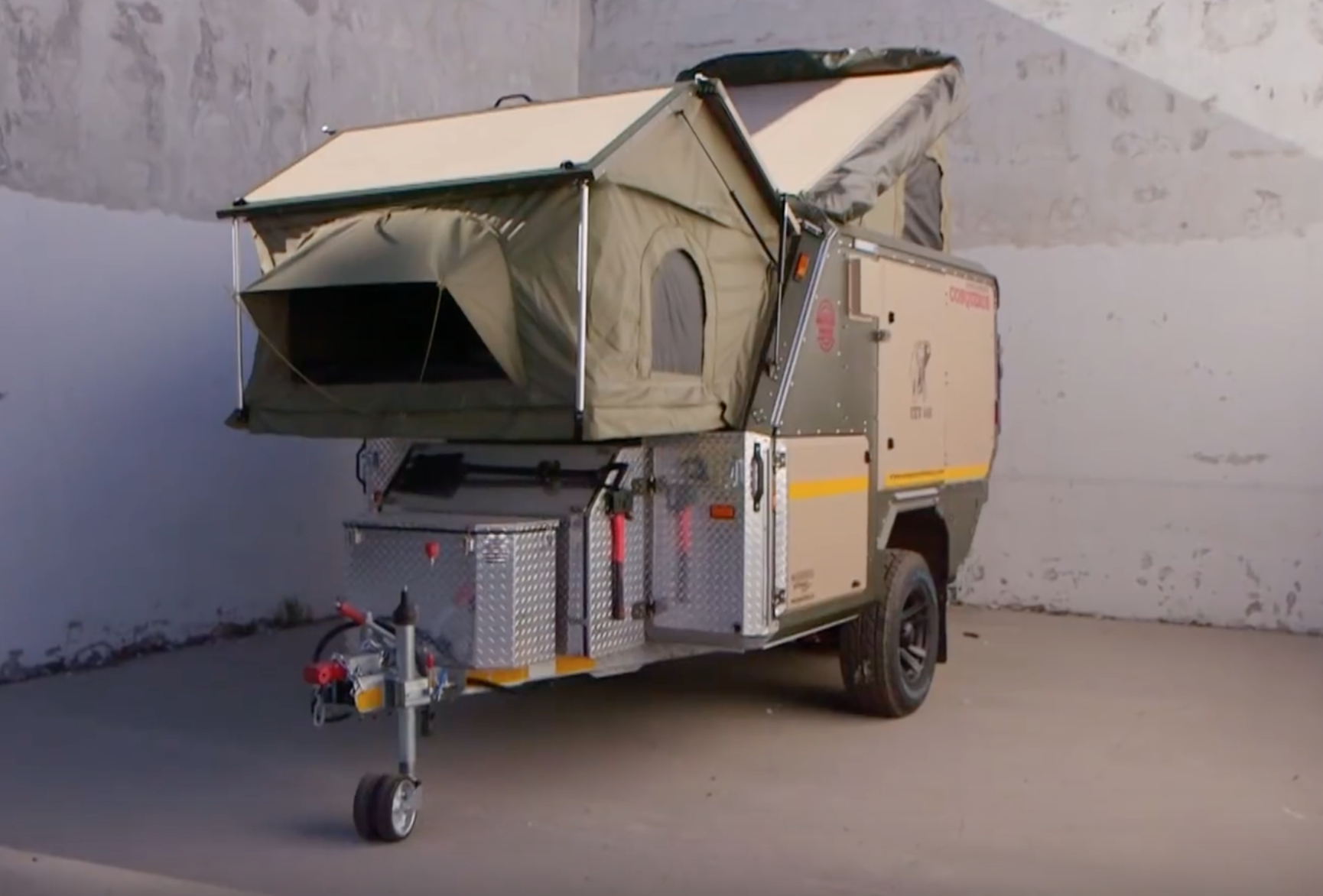 Checking Out The Conqueror Overland Adventure Trailer
This thing has everything, and I mean everything. Like a big kitchen? You got it! Like an outdoor wine holder too? Don't worry, you've got it! The Conqueror Overland Adventure Trailer series has everything you could possibly need to enjoy an adventure in luxury and more besides.
Conqueror off-road Camping trailers have been safari and outback tested for over 25 years in the harsh and unforgiving environments of Africa and Australia, so we already know that they're rugged and can withstand anything that you're likely to put them through.
Unlike some of the more rustic trailers that we've looked at, there's no wood in this build whatsoever. Conqueror don't want their builds to get damp and then rot, so the main construction of the chassis is CNC cut and bent 3 mm steel.  Other critical strength parts are made of thicker material and laser cut for precision fitting.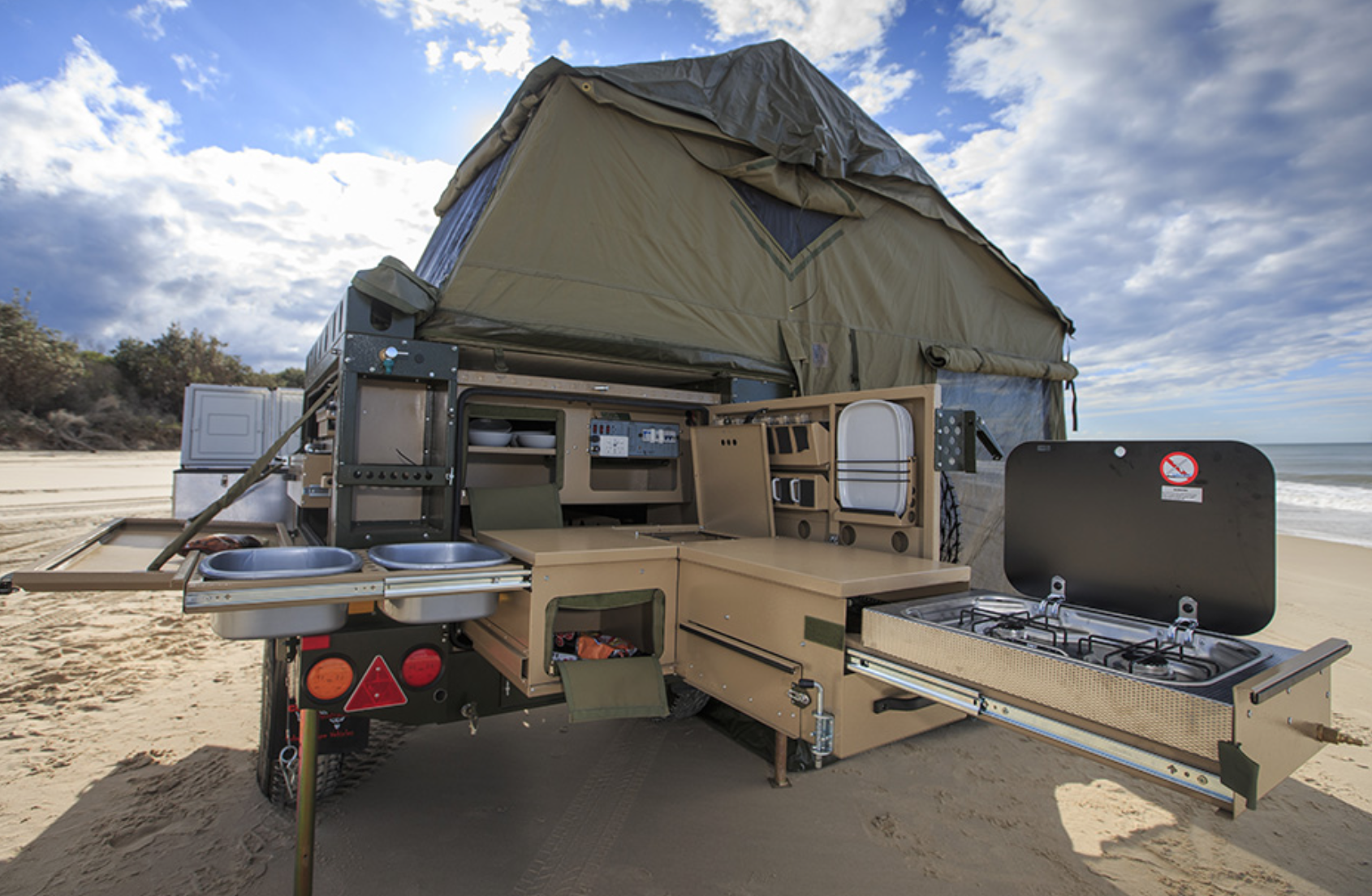 Remember how the Vintage Overland Trailer didn't have room for a kitchen sink? Well this beast has room for two, plus a pull out hob, plenty of food prep space, and an outdoor toilet and shower area further round the back.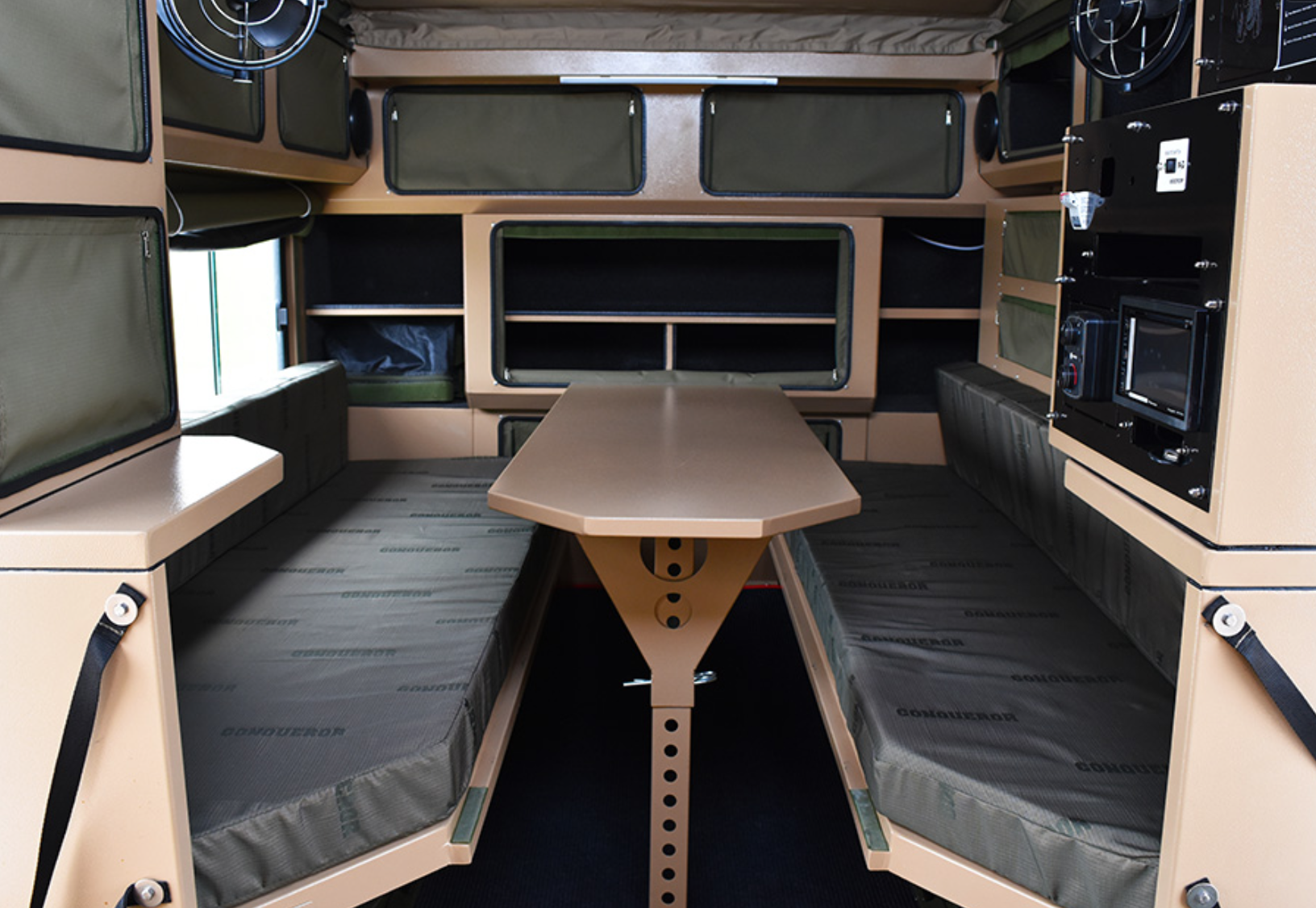 The inside living area is pretty nice too. There's a double bed up in the pop top sleeping area, and a TV for those that like to really feel at home on the road. The interior definitely gives off that military inspired vibe, which I guess isn't going to be everybody's cup of tea..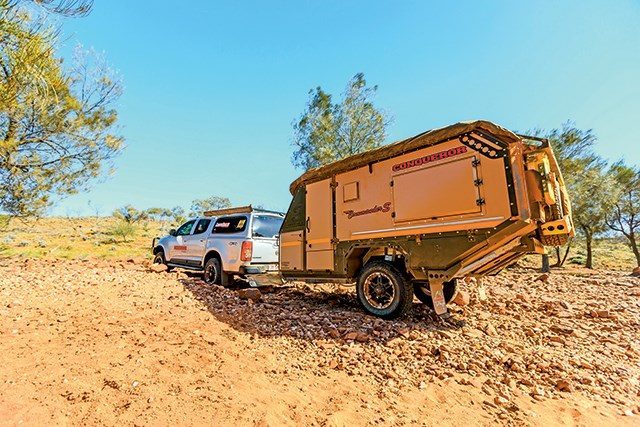 I Have The Power!
Your not going to be without juice in the Conqueror Overland Adventure Trailer. It features a Neutron 12 Intelligent Power Management system with Smart Phone apps-110v (which has gotta be good, right?) There's 3 LED lights fitted inside, 2 Hella Plugs, 2 battery boxes with circuit breakers for extra safety, and an Anderson plug with 16mm wire connected to batteries for vehicle or solar charging.
The trailer holds a 130l water tank too, which is plenty for cooking and showering on the road.
Final thoughts…
You can park the Conqueror Overland Adventure Trailer anywhere and everything is ready to roll. It's easy to operate and set up, but it would be a little but inconvenient in wet and windy weather. It's ok saying it's been tried and tested in Africa and Australia, i.e two hot countries, but I'd like to see this do a stint in the Lake District in the middle of Winter to see how it holds up.
The whole build is outdoors orientated; it prompts you to cook outdoors, to shower outdoors, and basically spend a lot of your time using the exterior features. If you like sitting on the pull out bed by the coal fire then this probably isn't for you. But if you're already in the market for an adventure trailer than you can't go wrong with the Optimus Prime of all off road vehicles.